I have affectionately named my Ginger Bug "Ginger" (okay, so I'm not that imaginative!)
If you don't know what the heck a Ginger Bug is, check that out
HERE
.
If you're familiar with the Ginger Bug, or even have one of your own, you might be just about ready to brew up some fantastic tasting and fizzy Switchel (or Swizzle if you prefer).
Here's what you'll need:
And this is the delightfully fizzy drink you will get to sip in just about 24 to 48 hours if the conditions are right!
Make sure that your ginger bug is good and active before you decant some off to make the Switchel!
Okay, ready for my recipe?
Fizzy Swizzle/Switchel (I kind of like the sound of fizzy swizzle)
In a quart sized canning jar combine the following:
1/2 cup active ginger bug*
2 tbsp raw apple cider vinegar
3 tbsp raw local honey
3 1/2 to 4 cups of water (to fill the jar)
1-2 drops of sole** (pronounced so-lay)
*You can strain your ginger bug first, but I used some of the ginger along with the liquid to make for a faster ferment. This means you will have to strain the switchel before serving, but it does ferment faster with the ginger in, rather than just the liquid. Learn about the bug
HERE
.
** The sole is to provide minerals for the yeast to grow and produce all those bubbles. If you don't have sole, you could put the tiniest pinch of Himalayan pink salt into the mix, but I highly recommend making yourself some sole. A post to come soon on that!
Seal the jar tightly and shake to combine all ingredients and help dissolve the honey. Then sit your tightly sealed jar in a nice cozy place for 24-48 hours. You'll know it's ready because you'll start to see some bubbly action at the top. I just pour it through a strainer into a glass after chilling it once it's done.
To see everything Wellness Mama has to say about Switchel, and for her recipe, see her blog
HERE
.
I do really enjoy her un-fizzy Switchel too, but I haven't tried it with the lime. I wonder if a drop of this: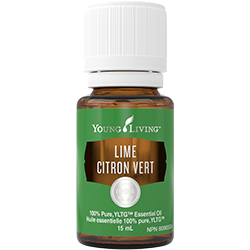 would be good in her recipe, since I don't have any limes around just now.
I think I'm going to go find out!
Will you try Switchel?
I am a Young Living Independent Distributor, which means I buy my essential oils at the wholesale price rather than the retail price. I save 24% off retail, receive discounted shipping, and can earn free products through the Essential Rewards program as well as the ability to earn commissions.
If you would like to become an Independent Distributor, I would love to sponsor you! You can click HERE and enter
2066298
in the "Sponsor and Enroller ID" boxes.
I am always happy to answer any questions!