EDIT **As of July 8, 2015 the Canadian Premium Starter kits are still with both Valor and Peace & Calming.** Sign up now to get these fantastic oils while you still can! See the bottom of my post for more details and please forward any questions to thepureoil@gmail.com
thepureoil@gmail.com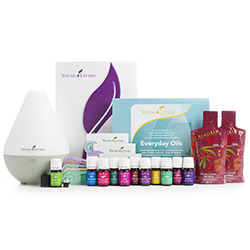 The Young Living Premium Starter Kit
In the US the Premium Starter kit has substitutions for both Valor and Peace and Calming right now, as they are currently out of stock for ordering, and have run out of the pre-made Premium Starter Kits.
HOWEVER...
In Canada the Premium Starter Kits STILL CONTAIN Valor and Peace and Calming
, until these kits run out, at which time Young Living will replace both of these oils with substitutes.
I just had a new member of my team receive his kit, and the Valor and P&C are both still in the everyday oils collection box. :)
This is fantastic news! Valor is definitely one of my top oils, I'd even say in my top 3. I can't be without it, so I'm really looking forward to the fall when it comes available again. Valor is all about balancing, calming, excellent for anxiety and stress. Peace and Calming is invaluable as well. I use it when I have to leave my anxious fur baby at home alone. Just one drop in my palm, a finger dipped into the drop, and rubbed in each of his ears, and between his shoulder blades patted down his back with what remains in my hand. He has a much easier time of it while we're all away.
A few things to know about Young Living:
1. They will NOT compromise on purity or quality.
2. They will NOT ever purchase through a broker, so they can ensure the quality and purity of their oils.
3. Some oils will on occasion be out of stock, due to seasonal availability or environmental factors that cause shortages. This is the case in point for Valor and Peace and Calming. They are both VERY popular blends, and Young Living sells a lot of them. They also both contain BLUE TANSY. Unfortunately last season their Blue Tansy crop in Morocco was wiped out due to flooding, and as a result these blends are currently not available. They do make suggestions on alternatives, but if you are wanting the real thing, and you live in Canada and are not yet a member, signing up and ordering the Premium Starter Kit is the way to get them, even though they can't be ordered on the site! This is a testament to their commitment to using only the VERY BEST quality oils available. If they were willing to compromise on quality they wouldn't run out, because they'd be buying through brokers; but the quality wouldn't be there. It's bitter sweet, but I'm much happier to know that I'm always getting the highest quality oils!
Young Living's 20-year history is built on a deep commitment to offering superior essential oils through our proprietary Seed to Seal® process. Because Seed to Seal is a sustainable partnership with the earth, our products are subject to the cycles of nature. While some products may have limited or seasonal availability, we are proud to offer you essential oils that are pure and potent, without compromising on the processes that ensure unmatched authenticity.


Contents of Premium Starter Kit:
(1) Everyday Oils Kit (1) Dewdrop Home Diffuser (1) Basic Starter Kit: (1) Kit Box & Insert (1) Welcome to Young Living Booklet (1) Essential Oils at a Glance User's Guide (1) Member Resource Guide (1) S.E.E.D. Sharing for Success Booklet (1) Stress Away 5 ml (1) AromaGlide Roller Fitment (2) Lavender Sample Packet (2) Peppermint Sample Packet (2) Peace & Calming Sample Packet (2) Thieves Sample Packet (3) Sample Packet Business Card (2) NingXia Red 60 ml. (1) Essential Reward promotion certificate.
The benefits of becoming a member, versus ordering as a customer, are def
If you are wanting to get started feel free to drop me a line at thepureoil@gmail.com
Once you're at that link, click beside "
I was referred by a Young Living member, and I have his or her member number."
When you do that the sponsor ID and enroller ID boxes will pop up. Please paste in there 2066298 as the ID number for both. Select the appropriate country and language and then click on NEXT. On the next page you will fill out your address etc. and create a password as well as a four digit numeric PIN. Write both of these down, as you will definitely want to keep them handy. Any time you call in to Member Services they will ask you for your PIN.
I have had to learn the ropes in Canada, as things are a little different here than they are for US distributors, but I can walk you through any questions you have as a Canadian Member, and I'm very happy to do so!
Let me know if I can be of help!
Jillian